Reacting, Predicting Or Dictating Behavior?
Are You Reacting, Predicting Or Dictating Consumer Behavior?
Reacting = Road kill
Predicting = Passenger/hitchhiker
Dictating = Driver
Forget about 2017, to guarantee growth and survival, you better be working on what your 2022 Customer Experience model will evolve to. If you haven't started working on the innovation of your future experience, you are in danger of being a passenger or even worse road kill. Why is this important, because every so often, a product or service comes along that can eliminate other products all together. Worse yet, there are even some examples of one single product eliminating entire industries.
Which of the following products have you previously owned at one time or another in your life?
Camera
Wallet
Flashlight
Portable GPS
Garmin for running
DVD player
CD Player
MP3 Player
Palm pilot
Cell phone
Multiple TV remotes

Alarm clock
Calculator
Calendar/Day Planner
Notebooks
Voice Recorder
Seminar Workbooks
Books
Magazines
Presentation Clicker
Garage door opener
Wallet

Wrist Watch
Tickets
Board Games
Video games
Kindle/Ereader
Handheld Video Recorder
House phone
Voice mail machine
White Pages
Yellow Pages
I personally have owned every single individual product on that list.
Today, they are all consolidated into one device, my cell phone. I am sure you can think of many more items, devices, and gadgets that have been eliminated by the advent of the smart phone. When the IPhone first came out, it was supposed to make our lives simpler by combining three major devices people were using regularly, the mobile phone, the palm pilot and their MP3/music players. However it didn't stop at just those three. Look at the list and think about how many industries the IPhone impacted and eliminated.
The #1 Thing Your Company Better Be Focusing On Is…
Making it EASY for your customers to do business with you. Less hassle, less policy, less steps, less red tape, less explaining, and less redundancy. Ask me once – then you keep track of the rest. Customers want a personalized experience, where businesses recognize them, predict and anticipate what they want and need, and provide it seamlessly, at every touch point, face-to-face, ear-to-ear, and click-to-click. And they want to be treated like they are really cared for.
*Related – The Results Of Your Product Or Services Has The Least To Do With Creating Customer Loyalty
Convenience Wins
This may be your ultimate Customer Experience weapon. How easy and convenient are you to do business with? Your competitor has the same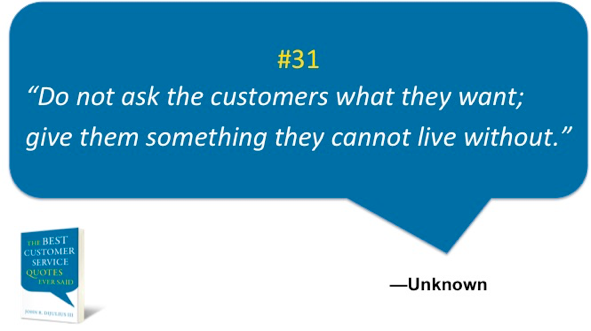 products and services. So, all things being equal, how can an organization tip the scale in its favor? Convenience. Companies like Apple, Amazon, Google, Uber, and Starbucks, have spoiled consumers in a great way and have raised the bar for businesses to follow suit. If you want to win in business, figure out how to be more convenient than your competition.
MORE ON CUSTOMER SERVICE:
1 MINUTE VIDEO SERIES

BY JOHN DIJULIUS

Watch this 1-minute video of how negative cues can ruin a Customer's experience.

NEW ARTICLE

BY DAVE MURRAY

Is Hitting Your Quotas

Coming At The Expense Of Customers?