Have Your Employees Been Brainwashed
57,000% Sales Growth in Three Years
Ever snacked on a Quest Bar? I love Quest Bars. Now I love them even more after learning about entrepreneur Tom Bilyeu, and how this incredible visionary grew his company Quest Nutrition 57,000% in just three years and his team of employees from six to over 1,400. Bilyeu's company is the second fastest-growing private business in the U.S.
*Look back at our Best Customer Service articles from last year.
Vision Quest
Move over Howard Schultz and Jeff Bezos, I may have a new entrepreneur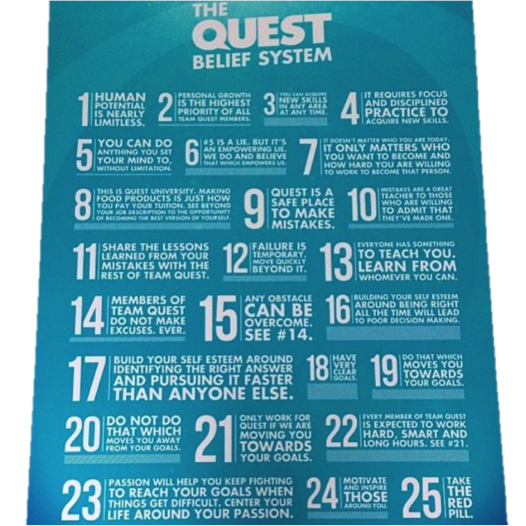 crush. I came across an article titled How This Entrepreneur Grew His Company 57,000 Percent in 3 Years that every CEO must read and share with your entire executive team. Here are some amazing things Bilyeu was quoted as saying:
"Instead of focusing on asking what would be more profitable, we started asking ourselves: What could we believe in and love doing everyday, even if we were failing?"
"That's when we started focusing purely on value creation: building a business whose primary aim was to deliver value to people."
"At Quest, instead of a list of core values, we have a 25-point belief system. One of the points on the belief system is that any obstacle can be overcome. When you really believe that, when you hit a dead end, you get creative and try something new instead of shutting down and giving up."
"What draws people to brands these days? Being socially active and socially conscious, aggressively authentic, driven by a desire to help others and create value."
"If they're focusing on the growth, they've already lost. Instead, they should be focused on delivering value and evangelizing their customers at every possible touch point. Quest is driven by a mission, and that has led to some seriously counter-intuitive decisions, but those decisions let our customers know who we really are."
"We're not trying to move units or drive sales. Revenue and company growth needs to be a byproduct of the other choices that you make. And all of those choices should be focused around delivering value to the world. Honestly, it's that. And man, oh man, have a mission. And don't make your mission about money. That's a sure-fire way to go nowhere."
"Understanding people to create a real human connection between the customer and brand. In today's hyper-connected and socially-driven world, brands have to be asking and answering questions like: What do we as a society truly value? What really resonates with us? What makes us happy and feel connected?"
"Our main techniques all focus around understanding what it means to be a human living in today's world. Authenticity. Connection. Transparency. That's what people want in their brand relationships. It's such an awesome time to be a brand if you legitimately like people and like the idea of being a servant leader."
"We want to prove to people every day that we're invested in helping them succeed — no matter what their quest is."
"We want to have purpose to what we do. We want to have global impact. So we focused on something else: value creation."
"There are three things that we look for in any team member. One – grand ambition; two — drive (the willingness to acquire the skills needed to realize your grand ambition); and three — compassion."
"What works when you're small does not at all translate when you have multiple locations and a distributed team spanning multiple countries and continents. But if you stay true to your personal and company values and put your employees first — ahead of even your customers — you can make your way through the growing pains. You just have to be willing to embrace change and learn from your mistakes."
*Become your company's next Customer eXperience Executive
Your Employees Have Been Brainwashed
Previous work experiences have a major impact on a person's Service Aptitude. Think about how small the percentage is of organizations that are truly world-class at Customer service. It
is a good bet that most of your front line employees have previously worked for an average or less-than-average Customer service company, which means that not only were they not trained on what excellent service looks like, but they were brainwashed by a policy-driven, ironfisted manager who taught them that Customers are out to take advantage of businesses. Watch this 1-minute video of an example I share with how your employees can be brainwashed by their previous employers.
Early Bird Ends December 31!
America's #1 Customer Service Conference, the
Secret Service Summit
, brings you world-class speakers, ground-breaking insights, incredible networking, plus, the big ideas, motivation and renewed energy to propel you and your company to the next level of Customer Service.